Relax and feel good in the KaDe­We Beau­ty Lounge with !QMS Treatments.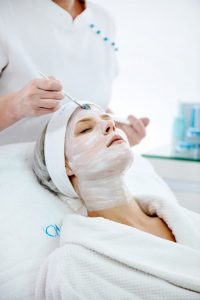 On the third flo­or of the ele­gant depart­ment store, exclu­si­ve tre­at­ments are also being offe­red with the high per­for­mance cos­me­tics that were deve­lo­ped by the Ger­man phy­si­ci­an, Dr. med. Erich Schul­te. All tre­at­ments, from the Express Cle­an­sing, which is ide­al­ly sui­ted for the start of the day or lunch break, to the exten­si­ve Clas­sic Col­la­gen Tre­at­ment, result in fresh vita­li­ty and imme­dia­te­ly impro­ve­ments in the skin's appearance.
The super fresh boost now in the win­ter with the dry hea­ting air offers the high­ly effec­ti­ve Oxy­gen tre­at­ment. On offer bes­i­des the facials are also two body tre­at­ments, a spe­ci­al­ly desi­gned for pregnant women, the "Love the Skin your baby is in" Tre­at­ment. And espe­ci­al­ly for the gen­tle­men: the 60-minu­te "Gen­tle­men Facial", a tre­at­ment exclu­si­ve­ly geared to the needs of men.